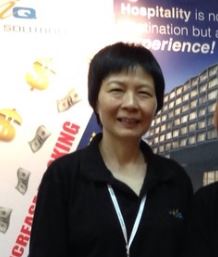 PHYLLIS YEO
Phyllis Yeo joined UbiQ Global Solutions in 2011 as Regional Marketing Manager, responsible for all marketing and communications activities of the company. She has over 20 years of regional marketing and communications experience in the hospitality technology industry.
Prior to joining UbiQ, Phyllis was Marketing Manager, Asia Pacific with Infor Hospitality, a company that acquired SoftBrands. She previously served as Marketing Manager, Asia Pacific in a number of hospitality technology companies, including Computerized Lodging Systems (CLS) which acquired by Hotel Information Systems (HIS) in 2002 and subsequently by SoftBrands in 2006.
Phyllis has a degree in Marketing and also holds The Chartered Institute of Marketing, UK post-graduate diploma.