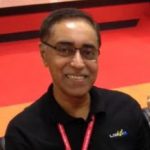 HARBANS SINGH
Harbans Singh has been involved in the hospitality business since 1985 and became a HFTP Hall of Fame inductee in 2013. His earliest days were as a field engineer in NCR. He subsequently moved into hospitality software installation and support and then sales. In 1988, he set up the regional operations for Computerized Lodging Systems (CLS), Inc. USA in Asia, this being the first commercially successful hotel management system which ran on the Unix platform. During this time, he also managed to grow CLS into a leading supplier of hospitality technology in Asia with over 300 installations.
Since 1988, Harbans has seen the company which he set up in 1988, CLS, evolve into many forms, including a management buyout of the operations in 1995 by him and his partners. In 2002, he merged his company with Hotel Information Systems (HIS), Inc. USA and became President of HIS Asia. HIS used to be a leading systems provider for hotels globally. In 2006, after a successful four years, this operations was acquired by SoftBrands, Inc. USA and he continued as President Asia Pacific, Middle East, until his voluntary departure in December 2008. At the time of leaving, HIS/SoftBrands had over 800 customers in Asia Pacific and he was also responsible for acquiring the most prestigious hotel account in the world, the Burj Al Arab, under Jumeirah International.
Over the years, Harbans has been very actively involved in industry developments and also was a constant speaker in hospitality conferences across Asia-Pacific and Middle East. His main passion centered on the use of technology to improve guest services and he constantly advocated the dawn of a new era of hospitality solutions.
It is with this belief that Harbans decided to leave his illustrious and successful career to venture out on his own in order to be able to personally articulate and develop the next generation systems for the hospitality industry, focusing on providing solutions for Hoteliers/ Owners.
In recognition of Harbans' contribution to Hospitality technology, Harbans was inducted into the prestigious HFTP Hall of Fame in June, 2013 in Minneapolis, USA, being the first Asian to be ever inducted into this exclusive club!