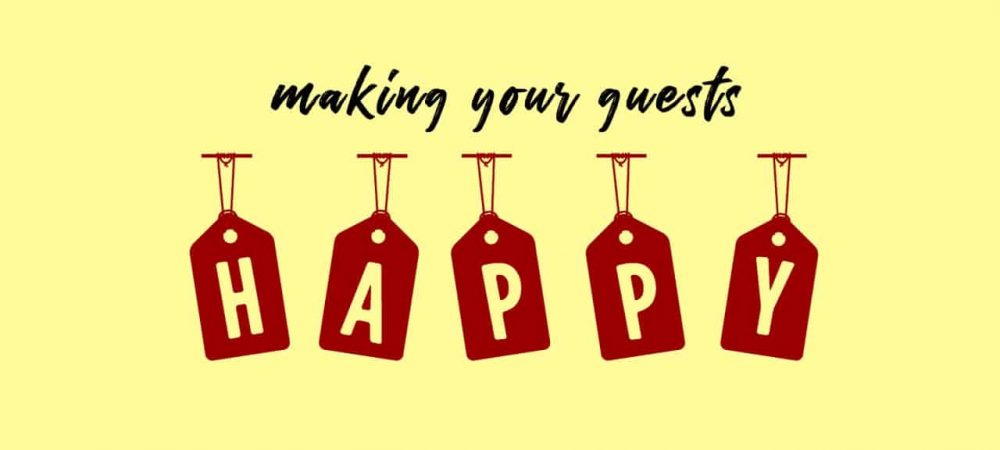 4 QUICK TIPS: HAPPIER HOTEL GUESTS WITH NO EXTRA COSTS
The year has come to an end and it is the season of festive again. Many hotels are preparing themselves for the busiest period of the year filled with back to back festivities: Christmas and New Year. From lobby decorations to food menu, hotel managers are putting in substantial efforts to ensure their guests have the most wonderful stay experience.
Creating a delightful experience for guests is extremely vital for hotel business. An online article written by top hospitality consultant, Patrik Hellstrand reveals that hotel service quality forms part of the keys for hotels to stand out from their competition and it helps to promote and improve guest loyalty. Understanding guest expectation and going beyond that to satisfy their needs will lead to happier hotel guests and repeat business with more positive reviews shared on popular social internet sites such as trip advisor, Facebook, Twitter and Instagram.
Nowadays many travellers tend to check out online sites for hotel reviews before they book for travel accommodation or get recommendations from their friends and family; the positive reviews or word-of-mouth could help to create good impression and increase the chance of hotels being selected.
It does not always cost a hefty amount of money to have happier hotel guests! However, if budget was your concern, here we have included some amazing tips that hotel managers are able to use to have more happier hotel guests with NO EXTRA COSTS! 
Tip #1 of having happier hotel guests
Hospitality Before Arrival
Pleasing your guest even before they arrive at your hotel would be a great idea. Hotels can opt to send a personalised email one week or a few days before a guests' check-in date to remind them about their bookings. By doing so, it shows that you care and are looking forward to welcoming your guests to your hotel.
Tip #2 of having happier hotel guests
The First Impression Always Counts – Hospitality No.1 iron rule: SMILE.
The travelling process could be tiring for certain guests. Once guests have arrived at your hotel, greet them with a big warm smile and help them to check-in as fast as possible. This will truly delight them. No one wants to wait in line for the front desk anymore as it is considered a hassle for some guests but rather would like to be in their room in the fastest possible time.
Tip #3 of having happier hotel guests
Go personalised
One online survey done by Software Advice disclosed a 48% of guests would be enticed by a free room upgrade. Free room upgrade does not always mean you have to give away premium suites. In this case, it could be a room with better view, a room closer to hotel facilities (gym, swimming pool etc), or even a room with a balcony. Alternatively, try to welcome guests with a hand-written welcome note upon room check-in, or personalised gift such as chocolate, candy wrapped with paper that has their name printed on top would be brilliant. This idea is applicable during check-out too.
Tip #4 of having happier hotel guests
Free & Fast WiFi
Slow WIFI is a big turn-off; charging your guest for WIFI is even worse! The trend of mobile technology is not to be ignored. Nowadays people travel with smart devices such as smartphones, tablets, and WiFi is deemed basic necessity for guests to stay connected with people. Daily Mail reported an online survey conducted by travel company has discovered that hotel guests would rather have a good connection to scroll through social media updates or keep in touch with family and friends instead of other treats such as complimentary cocktails on arrival.
By keeping these tips in mind, you'll be sure to have happier hotel guests with no additional costs!
For more useful tips, kindly visit https://www.ubiqglobal.com/blogs/
You may also read this article https://artworkhotels.com/2013/04/25/secrets-to-happier-hotel-guests-in-2013/ for additional information!