« Back
Organizations today generate so much data which is stored on their computer servers and other PCs across the organization, very often in totally different locales and more often, not integrated in any way. Data is often not shared and redundant data lies all across the organization. In managing a business, this data is very valuable but more often than not, organizations rely on reports which have been manually prepared by the staff, extracting data from different sources. The problems with such data are many fold but the most important considerations would be:
The information is not current as time is required to extract data from different sources and compile into management reports
The accuracy of the information is questionable
The ability to dissect the information into relevant views which are required for a particular decision making process becomes challenging
Comparison against past data is challenging and more often than not, may not be accurate and complete
Recognizing the need for management information within the industry this has led to the development of a Business Intelligence solution for hotels -
QikResults
©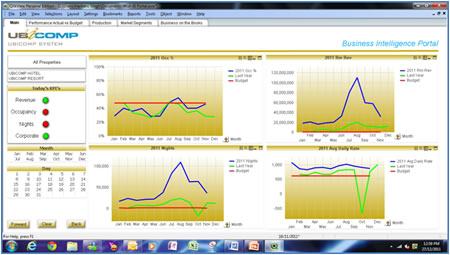 Developed on the Qlikview platform, QikResults© allows for the flexibility of deploying in single on-property installation as well as a hosted environment. In the latter, customers can subscribe to the service provided by UbiQ and receive strategic reports on a daily basis based on their requirements and with information extracted automatically from the local PMS systems on property. QikResults© is also designed for multi-property installations whereby customers can view the consolidated results for all properties within the group or a single property and drilling down property specific details.
« Back