« Back
Hotel guests usually plan for their stays in the hotel in advance of their travels and in many cases, look for information which will be useful for their stay. Among this items which are of interest to them would be items such as events which may be happening in the city while they are going to be in town; the weather; specials which the hotel might be offering during their stay, etc.

QikStay© is designed to enable the Guest to start planning their itinerary from the moment they make their booking with the hotel and carry that experience through to their stay and even after that! Imagine being able to plan your itinerary before you even arrive at the hotel and also knowing well in advance the special events which might be happening in the city or the hotel; being warned about the weather conditions; knowing that there could be some special sales happening in the stores next to the hotel; etc.

Guests can log into QikStay© at any time from the point of booking, during their stay in the hotel and even after check-out such as to plan for their next stay with the Hotel which gave them such a wonderful experience!!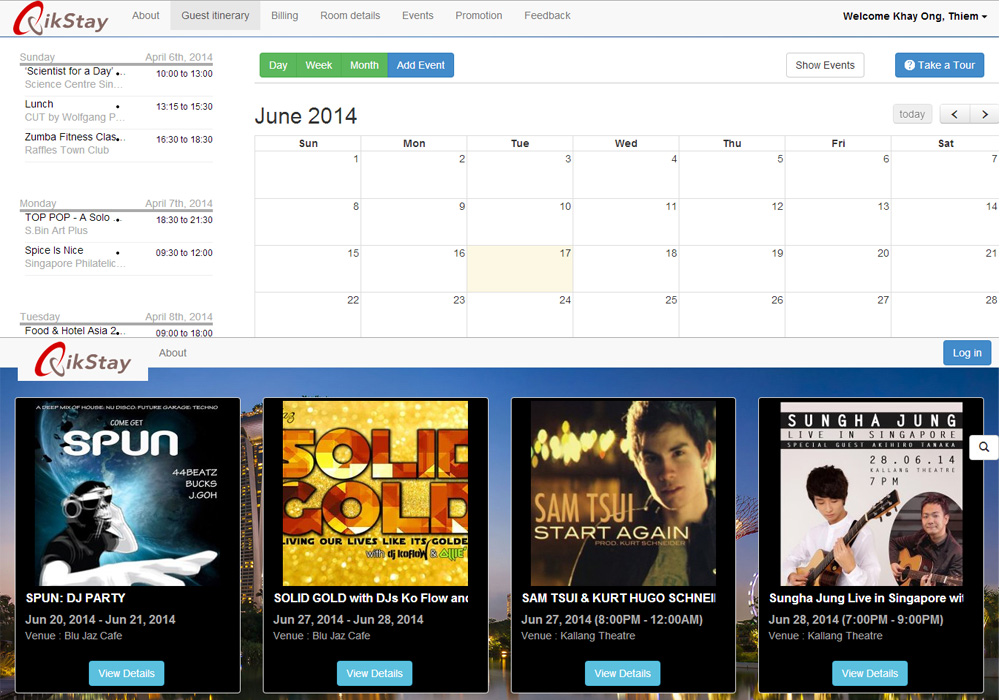 QikStay is a guest communications portal being tailored to hotel's needs and aims to provide a personalized guest experience. The guest portal allows guests to plan their itineraries before they even arrive at the hotel and share this with their friends. They are also able to view their bills when in the hotel and do a self check-out, look at hotel events and promotions that are happening within and surrounding the hotel. The ability to plan the stay itinerary is a powerful planning feature which guests can now use right from the point they make a reservation with the hotel. With QikStay, hotels can also capitalize on this portal to further encourage guests to use their facilities and increase revenues!
« Back