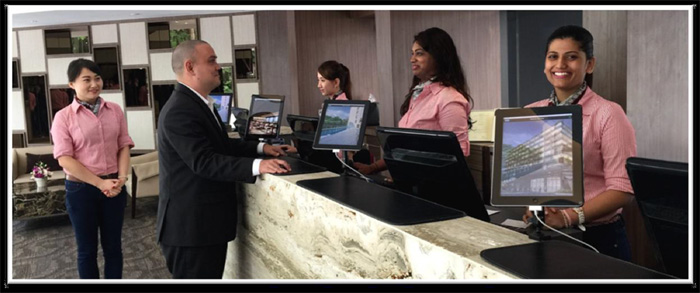 Winning Factors
When hotel soft-opened in 2011, guests would take six to ten minutes to check-in at the counter. Now, the check-in and check-out process take under a minute
Smoother and faster check-in and check-out process without waiting for printed documents
Allows staff to spend more time with Guests to understand their needs and interact with them
Reduces the business operation costs.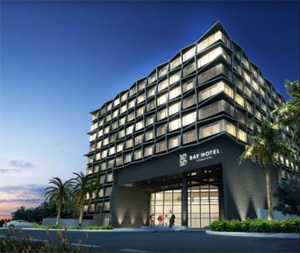 QikDesk© Solution
The paperless check-in and check-out green technology marks a new paradigm shift for hotel guest services and business operations. Guests arriving for check-in at the reception counter are able to view the registration card and sign on the QikDesk© terminal on the front desk. Similarly, during the check-out process, guests get to view their folios on the QikDesk© upon check-out and also request for the folios to be emailed to them instead of the printed copies.
This in itself has tremendous impact on paper usage within the hotel. The complete check-in and check-out process becomes much smoother and faster as guests no longer need to wait to print documents. While waiting for registration or check-out to be processed, guests get to view hotel promotions on QikDesk©, thereby, allowing hotel to upsell services and increase revenues.
The QikDesk© system offers our guests a quick and efficient check-in and check-out experience under a minute.
− Mr. Philip Cyril Raj, General Manager
Overview
Bay Hotel Singapore, a 333-room, non-smoking property located at the gateway of Sentosa, opened its doors in 2011. Since its opening, Bay hotel has been facing the challenges posed by severe competition from the growth of hotels in Singapore, the lack of qualified manpower, and the ability to compete for the Guest and retain them for future business.
This has led the hotel to be on a constant search for ways to improve on the delivery of Guest experience, to raise staff productivity and to reduce hotel operations costs. Their search led them to UbiQ Global Solutions' QikDesk© paperless iPad Check-in and Check-out solution!
What were the selection criteria of this new paperless system?
"The QikDesk© System meets the hotel business operation's needs," said Mr. Philip Cyril Raj, General Manager, Bay Hotel Singapore. "It empowers the hotel with the ability to go paperless provides higher efficiency, allowing more time for guest interaction and saving costs on paper and eventually reduces manpower."
How has the hotel benefitted from the implementation?
"The Front Desk is one of the major sources of paper usage," said Mr. Philip Raj. "The implementation of the QikDesk© system not only offers our guests a quick and efficient check-in and check-out experience under a minute, it also eliminates the use of paper in the process leading to significant cost savings in the hotel operations."
"QikDesk© is an addition to the earlier QikPad© system introduced by UbiQ, which now allows for hotels to go totally green in the front desk," said Mr. Harbans Singh, Managing Director, UbiQ Global Solutions. "It also enables Bay Hotel Singapore to provide a much better Guest experience, reducing reliance on excessive labour and also building Guest loyalty."
"With the implementation of QikDesk© System, Bay Hotel Singapore has moved up a step in achieving its goal in providing a total unique experience for their Guests," added Mr. Philip Raj. "This is also in support of our corporate green initiatives and we see more guests delighted with the idea and they want to participate in contributing the environment."