Penang, Malaysia, November 5, 2014 – UbiQ Global Solutions, today announced the introduction of QikDesk&copy Paperless check-in and check–out green technology, enabling hotels to deliver a total unique guest experience, and in support of its corporate green initiatives.

Bay Hotel, Singapore is the first in Asia to implement a full Green Front Desk with UbiQ Global Solutions' suite of hospitality technology. The paperless check-in and check-out green technology marks a new paradigm shift for hotel guest services and business operations. Guests arriving for check-in at the reception counter are able to view the registration card and sign on the QikDesk&copy terminal on the front desk. Similarly, during the check-out process, guests get to view their folios on the QikDesk&copy upon check-out and also request for the folios to be emailed to them instead of the printed copies. This in itself has tremendous impact on paper usage within the hotel. The complete check-in and check-out process becomes much smoother and faster as guests no longer need to wait to print documents. While waiting for registration or check-out to be processed, guests get to view hotel promotions on QikDesk&copy , thereby, allowing hotel to upsell services and increase revenues.

"The Front Desk is one of the major sources of paper usage," said Mr. Philip Cyril Raj, General Manager, Bay Hotel Singapore. "The implementation of the QikDesk&copy system not only offers our guests a quick and efficient check-in and check-out experience under a minute, it also eliminates the use of paper in the process leading to significant cost savings in the hotel operations."

"QikDesk&copy is an addition to the earlier QikPad&copy system introduced by UbiQ which now allows for hotels to go totally green in the front desk," said Mr. Harbans Singh, Managing Director, UbiQ Global Solutions. "It also enables Bay Hotel to move a step up in achieving its goal in delivering a unique guest experience."

The QikPad&copy technology can be previewed at Food & Hotel Penang 2014, Hall 1 booth #202, from 5 - 7, November 2014 at Strait Quay Convention Centre.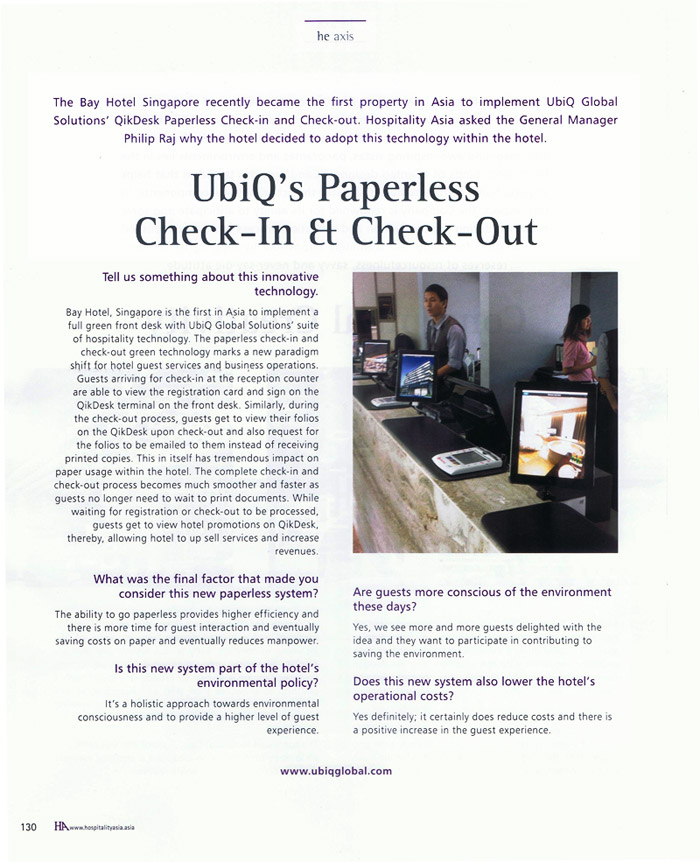 About UbiQ Global Solutions
UbiQ Global Solutions is a subsidiary of Ubicomp System Sdn Bhd, a Malaysian MSC status company, which developed the QIKINN© system as well as other leading edge technologies for the hospitality industry. UbiQ also represents other key niche solutions which are unique and offer a competitive edge to the hotels incorporating the latest technologies for the benefit of the users. The solutions will be matched to provide total seamless integrated systems thereby eliminating the need for multiple operations within the same organization in order to gather the required data for proper analysis and decision making. For more information on our suite of hospitality solutions, please visit www.ubiqglobal.com or www.qikinn.com.